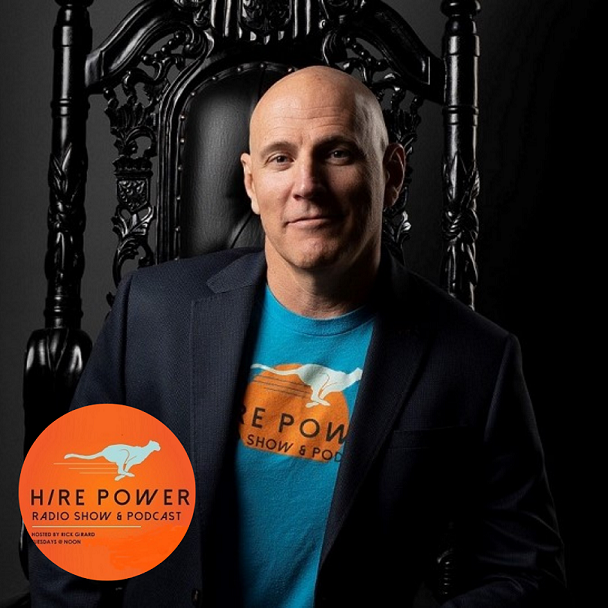 #1 Hiring Podcast Designed Specifically For Startup Founders & Entrepreneurs Tuesdays @12PM (PST), LIVE on LinkedIn, YouTube, & Facebook Our mission is to enable values-driven startups to win-win the strongest hires by sharing insights from top-performing entrepreneurs, game-changers, & industry thought leaders. www.hirepowerradio.com www.rickgirard.com
Episodes
Friday Apr 08, 2022
Friday Apr 08, 2022
Let's talk about what really draws people to your company… and keeps them there. Trust
Trust is what drives better decision making, customer experience and profitability. But trust is not gained after a person starts working for your company. It is established during the interview process.
You see, people's job mindset has evolved over the past few years.  We are being judged throughout the process for clarity, purpose and structural integrity.  Elements that demonstrate that you take your business seriously and are playing to win.
When hiring, start with the end in mind. Focus on retention, with the intention of building trust through the experience for maximum engagement & long term growth.
Guest Bio:
Ville Houttu is the Founder and CEO of Vincit USA. Previously, he helped Vincit Finland to reach 350 employees and make it public on Nasdaq First North marketplace. After the IPO, Ville moved to California to start Vincit's local subsidiary. 
Ville and the company have been recognized by several notable institutions, including 5000 Fastest-Growing Companies in America List. In 2020, he led the company to rank top-50 on the FAST Company's Best Workplaces for Innovators list.
Ville is a known public speaker and his leadership has been featured in several leading publications, including TechCrunch, Forbes, Inc. Magazine, and Entrepreneur. 
Today we discuss:
Why and how to build trust

Concept of the CEO of the Day 
Challenges today?
title wave of people leaving your companies

Don't want to work for people who don't trust them

Not looking for dollars & sense anymore

People want a culture that fits




Let your people build the culture 
Why is this important to the company?
It builds trust 

We are at the end of us telling employees what to do

Keeping employees happy, healthy and engaged

Make the Inc 5000 list

*** how this translates to business! 

Up 65% year on year growth over last year
How do we solve the problem? 
CEO for a day every month

How to deploy in your organization




Get everyone on board 

One person who will be the first CEO of the day

Management team needs to step aside

Open discussion agreeing to not get involved

No approval needed from management

It's your call

Decision based on what you feel the people need 

The Question: does the decision make the workplace better tomorrow than it is today?

Value in engagement far outweighs the cost

Goal: helps sales, marketing, operational, engineering

Can be a very focused area of improvement

Unlimited budget, everyone gets a turn, no one goes twice
Here's how CEO of the Day works:
Every month we select one employee to be a CEO for the Day.  

He will have an unlimited budget to improve our workplace.

Whatever the CEO of the day decides, we all live with.

We encourage discussion among colleagues, but I do not weigh in.

The CEO will announce his decision in our monthly meeting.

After sharing his decision, the CEO selects the next CEO of the Day.

All employees will get their turn, but nobody goes twice.
Rick's Nuggets
What if someone (me) wants to buy a Ferrari?
Key Takeaways that the Audience can plug into their business today! (Value):
Join the movement of companies making their employees CEO's of the Day, and TRUSTING them to build a culture that FITS. Because when you do, you will see that BY TRUSTING your employees you will EARN their trust and LOYALTY in return. And with employees like that, there's no STOPPING where your business can go. 
Guest Links
LinkedIn: https://www.linkedin.com/in/vhouttu/
Company: https://www.linkedin.com/company/vincit-oyj/
LinkedIn: https://www.vincit.fi/en/
Twitter: https://twitter.com/Vincit_Plc
Facebook: https://www.facebook.com/VincitOyj
Instagram: https://www.instagram.com/vincit_plc/
YouTube: https://www.youtube.com/c/VincitFlix/featured
Medium:  https://medium.com/vincit
GitHub: https://github.com/Vincit
Host Links:
LinkedIn: https://www.linkedin.com/in/rick-girard-07722/
Company: https://www.stridesearch.com/
Podcast: https://www.hirepowerradio.com
Authored:  "Healing Career Wounds"  https://amzn.to/3tGbtre
HireOS inquiry: rick@stridesearch.com