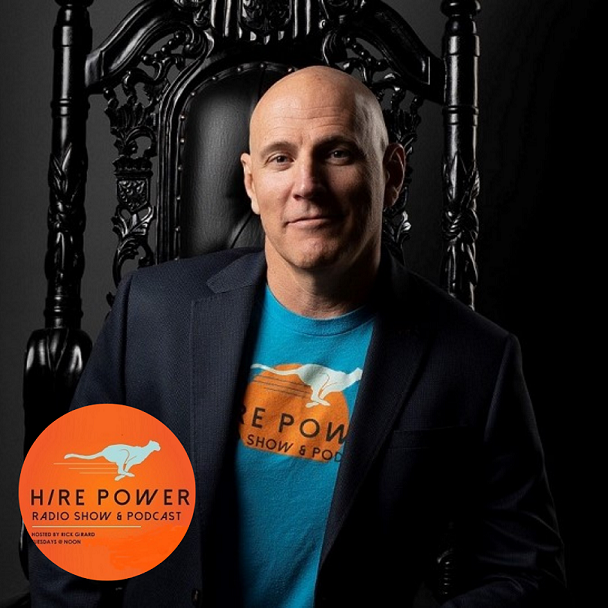 #1 Hiring Podcast Designed Specifically For Startup Founders & Entrepreneurs Tuesdays @12PM (PST), LIVE on LinkedIn, YouTube, & Facebook Our mission is to enable values-driven startups to win-win the strongest hires by sharing insights from top-performing entrepreneurs, game-changers, & industry thought leaders. www.hirepowerradio.com www.rickgirard.com
Episodes
Thursday Nov 10, 2022
Thursday Nov 10, 2022
"People don't buy what you do, they buy why you do it". - Simon Sinek
How does this translate to your hiring? The simple answer is that your company's WHY is the one thing that differentiates whether a person joins for the paycheck or something bigger. Because it is important to them.  It is the WIIFM (what's in it for me)
Right person, right seat needs to happen, every time. Your company depends on it!
When we hire solely for skills. We experience the Wrong person, Right seat more than 51% of the time. 
When we hire for values first, and skills second, it moves us closer to a 75% success rate of Right Person, Right Seat. 
In addition, when we are in alignment with the "WHY", the probability of successful hiring skyrockets over the 95 percentile. 
This is how everyone wins. Right person, right seat every time.
Guest Bio:
Ted Bradshaw is an Expert EOS Implementer™ & Community Leader at EOS Worldwide. 
He served as an executive with Xerox and IBM, then left the Fortune 500 world to explore the thrills of entrepreneurship. 
What he found was a long string of success that looked great on the surface. But underneath it all, he felt anxious, exhausted, and stressed, chasing money wherever it led and wondering why he never felt fulfilled. Along his journey, Ted gained valuable insight into how a person can achieve fulfillment in all aspects of life and he shares those insights with his best-selling book, Stop Chasing Squirrels.
Today, Ted lives his passion in helping others find theirs. A leading proponent of the Entrepreneurial Operating System®, Ted is a speaker, author, Expert EOS Implementer™, and the Community Leader for EOS Worldwide
TODAY WE DISCUSS
The importance of aligning WHY 

How to hire the person that aligns most with your WHY
Challenge?
Organizations need to change their frame

Purpose alignment

Company helps the person achieve their purpose

Right people, right seat




Understanding how to develop or bring in people to scale

How does the mission complement their people 

Not selling on the company purpose

Employee's mission/purpose
Rick's Nuggets:
Core values are the foundation of your company WHY

Values drive purpose (WHY) & mission

Align with values, adopt the why as your own

 

Align with purpose but not the values?

Passionate about the "work" 

Disruptive to the organization

Operate in a manner that is counter-productive to the rest of the organization?

Wrong person, right seat
How do we solve the problem? 
Clear on Core Values

Mission to mars exercise

Culture of the organization 

Founder or exec team often generates

Jim Collins - Built to Last

This is the definition of right person for the company

Right people on the bus




Hard look a the company mission

Look through the lens of the employee

Why does this matter to them




Understanding the employees purpose

Leaders need to understand their why first

Help theme to get there

Or find it
Rick's Nuggets:
Core Values

Define what they mean in terms of how we operate, make decisions and treat others

Measurables to avoid being subjective 




Getting to the WHY

Attract & repel people

"Everything we do is to help entrepreneurs to build the strongest companies. Starting with the roots of effective interviewing to hire the strongest people"

Proactive Interviewing

Listen first  

Why open?

What is desired (positioning)

Candidate ownership of the process  (do they WANT it?)

"What would you like to do?"

"What value would you get from moving forward?"

Working session (Capacity to do the work)

Real-life working scenario 

Solving a real problem

Understanding:  technical skills, problem-solving abilities, communication style, presentation skills, team interaction, passion for the work
Key Takeaways that the Audience can plug into their business today! (Value):
Look at your own personal purpose. Ist it aligned with the company purpose

Ask leaders what their purpose is and how does it align with the company
Guest Links:
Host Links: 
Show Sponsors: