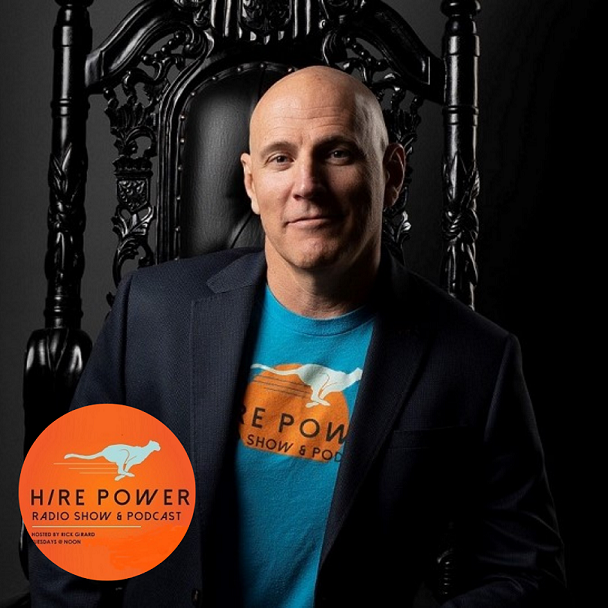 #1 Hiring Podcast Designed Specifically For Startup Founders & Entrepreneurs Tuesdays @12PM (PST), LIVE on LinkedIn, YouTube, & Facebook Our mission is to enable values-driven startups to win-win the strongest hires by sharing insights from top-performing entrepreneurs, game-changers, & industry thought leaders. www.hirepowerradio.com www.rickgirard.com
Episodes
Thursday Mar 24, 2022
Thursday Mar 24, 2022
Today I'd like to start with a question: What if you could 15x your company in 24 months?
We all understand that this is virtually impossible as a solopreneur. As delegation creates the space for growth. 
It is very possible for you to 15x your business by dedicating yourself to becoming really good at hiring. This starts with changing your attitude. "I hate hiring", or "I'm not good at hiring" or "I'll delegate this to someone else" will not get you where you want to go. It also sets you and your team up for failure.
Today is your wake-up call to embrace getting really good at hiring.
Because the lifeblood of Your business is WHO you hire.
Guest: 
Johnny Robinson is owner of Orange Window Cleaning & Mary & A Mop (Maid Service).
During his freshman year of college, Johnny and his best friend Sergio started a window cleaning company by going door to door to small mom and pop businesses. As they continued to pound the pavement, the business started to grow through word of mouth. They started to see the potential for an actual business by building a great reputation, and doubling down on digital marketing. 
Fast forward to today, Orange Window Cleaning has AT LEAST doubled every year since starting the business. One key component to this rapid growth has been hiring for performance.
Today we discuss:
Why it is important change your relationship with hiring
Hiring Story
Johnny's Story - employee doing cocaine at the customer's house. Left residue in the bathroom. 2 months of problems ignored. Operated out to the scarcity mindset and kept them.  Confronted and they wouldn't own up to it. The customer sent pictures. Fired them on the spot.
Shifted mindset- take hiring process more seriously
Challenges today?
Running off emotion over kpi's

Hate hiring!

Hiring whoever/ too fast

Desperate for people 

Hiring family or friends

Keeping people too long
Why is this important to the company?
Hiring is hard

Hard to see the problems when you are in the trenches

Treat hiring like marketing-

Keep the funnel full when you run into problems
Rick's Nuggets:
Don't hate hiring if you are good at it

Tell yourself- I'm Awesome at hiring 

The lifeblood of your business is who you hire
How do we solve the problem? 
Listen to podcasts related to industry

Stop taking referrals from the wrong people (c- players)

Hired 2 people from one underperformer 
Vetting with pre-qualification questions tied to core values

Situational questions

Hired one of their best people this way
Always be hiring

Funnel full of applicants

Run ads - like sales

Appointment setter (vetting) and Interviewer -closer 
Performance based pay structure

Incentive based- review bonus, upsell bonus, 

Commission - selling a neighbor

Hourly was killing morale 

rewarded for hard work
Rick's Nuggets:
Hire power radio?? 

Document & Practice 

Treat like your pitch deck

Internalize and teach

Discovery call
Key Takeaways that the Audience can plug into their business today! (Value):
Performance based pay structure - making sure our employees were aligned with the companies goals - growth
ABH - Always be hiring
Join a peer group - EO
Guest Links:
LinkedIn: https://www.linkedin.com/in/johnny-robinson-a2b632120/

Company: https://orangewindowcleaning.com/

LinkedIn: https://www.linkedin.com/company/orange-window-cleaning/

Instagram: https://www.instagram.com/orange_windowcleaning/
Host Links:
LinkedIn: https://www.linkedin.com/in/rick-girard-07722/
Company: https://www.stridesearch.com/
Podcast: https://www.hirepowerradio.com
Authored:  "Healing Career Wounds"  https://amzn.to/3tGbtre
HireOS inquiry: rick@stridesearch.com
Show Sponsor: