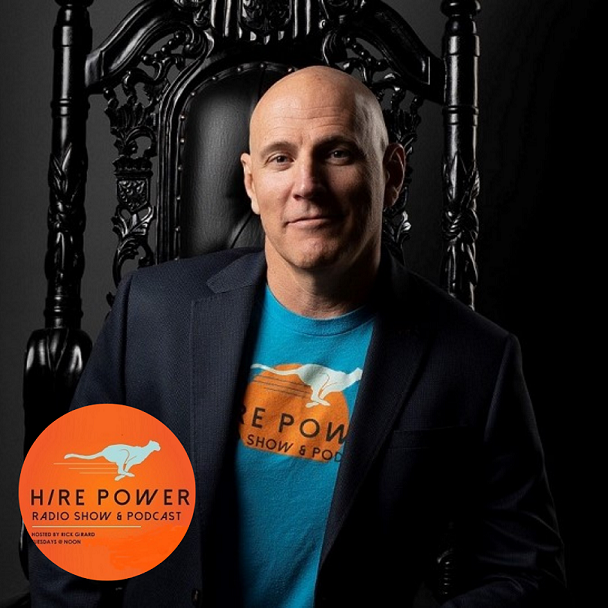 #1 Hiring Podcast Designed Specifically For Startup Founders & Entrepreneurs Tuesdays @12PM (PST), LIVE on LinkedIn, YouTube, & Facebook Our mission is to enable values-driven startups to win-win the strongest hires by sharing insights from top-performing entrepreneurs, game-changers, & industry thought leaders. www.hirepowerradio.com www.rickgirard.com
Episodes
Thursday May 12, 2022
Thursday May 12, 2022
We often hear data on how much bad hire costs you and your company. About 3x the person's annual salary.
But how much did the interview process itself cost?
For a startup to make a hire, the company spends about 73 total hours interviewing. With the most significant cost being 30 hours of the production team's combined time. And this is assuming that 6 people make it through a full interview to get to the hire.
We have to ask ourselves, can we really afford to lose almost 4 days of productive activity to interview? Roughly $9,855 per role, not including candidate marketing or recruiting fees. 
As a small business, the answer is NO!
Guest Bio:
Rocky Lalvani of Profit Comes First, serves as Chief Profitability Adviser for business owners. He teaches them how to ensure they get paid and make profit a priority! As a certified Profit First Professional he implements Mike Michalowicz's Profit First System.  
Rocky started with nothing when his parents immigrated to the United States when he was two years old, and his parents were in their 40's. It was his parents' second time starting over in life as they moved here to experience the American dream. 
In spite of a lot of struggles and his mom passing away when Rocky was 7, he has been able to achieve financial and life success. Rocky loves to share his journey and inspire others to achieve their dreams even faster.
Today we discuss:
Why it is critical to understand what interviewing costs 

How to maximize your team's time with structure
Challenges today?
Employees are the major cost for the business 

Employee should provide a return for the business

Return of Cost of person (taxes, unemployment) 

Inefficiency does not show up anywhere on the p&l

Wealth is built on the balance sheet!
Why is this important to the company?
Costs to the company hiring 

Reduces morale

Loose customer 

Nobody is tracking interview or training costs 

Hard costs that are very difficult to figure out




As a client- doesn't want to do business with a company that hires wrong

(leadership issue)



Rick's Nuggets
Team time waste!

People who meet the team must be positioned properly

Demonstrate strong leadership in protecting time
How do we solve the problem? 
Mission values purpose

This is the step most business owners skip!

Or in their head, but no one else knows

Hire to it

Have to live it

Hire in alignment with mission, values, purpose

Not who you like

Having a interview process

Understanding the real cost

Bad Hire- Employee does not provide any value

Mistakes 

Morale for everyone else

Lose clients/ client trust

Example Costco vs. Sam's

Gross profit / Total payroll including taxes

For every $1 in payroll returns x$ in gross profit

Measure & Know

Need to be making at least 2X payroll

It all comes back to leadership!
We change the accounting formula of Sales - Expenses = Profit to Sales - Profit = Expenses.  This ensures Profit comes first! (PS. It's not about money at all costs, people come before money!)
Rick's Nuggets
Values - most important

Protect time costs

Structure interview 

Each step is a decision

Only progress value aligned, well positioned & accomplished people

Decisions must have evidence to back

Eliminate uncertainty

Assign interview questions

Prepare all for success 
Key Takeaways that the Audience can plug into their business today! (Value):
Is mission vision purpose written down & do your employees know it?

Cost of a bad hire for you?

How much profit do your employees bring you?
Guest Links
LinkedIn: https://www.linkedin.com/in/rocky-lalvani/

Company: https://profitcomesfirst.com/

LinkedIn: https://www.linkedin.com/company/profit-comes-first/

Twitter: https://twitter.com/rockylalvani

Facebook: https://www.facebook.com/richersoul/

Instagram: https://www.instagram.com/richer.soul/?hl=en
Blog: http://richersoul.com/

Podcast: https://podcasts.apple.com/us/podcast/profit-answer-man-implementing-the-profit-first-system/id1508245322
Host Links:
LinkedIn: https://www.linkedin.com/in/rick-girard-07722/

Company: https://www.stridesearch.com/

Authored:  "Healing Career Wounds"  https://amzn.to/3tGbtre
HireOS inquiry: rick@stridesearch.com

Podcast: https://www.hirepowerradio.com

YouTube: https://www.youtube.com/channel/UCeEJm9RoCfu8y7AJpaxkxqQ/featured

Facebook: https://www.facebook.com/rick.girard.5

Twitter: https://twitter.com/rick_girard?lang=en

Instagram: https://www.instagram.com/rickgirard1/?hl=en
Show Sponsor: