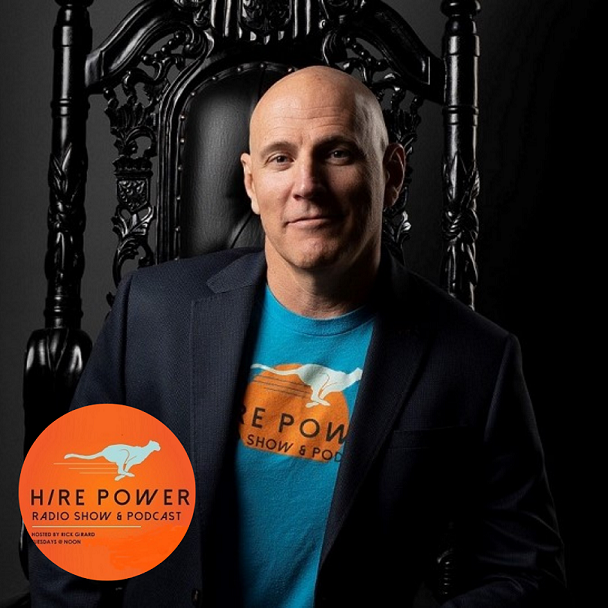 #1 Hiring Podcast Designed Specifically For Startup Founders & Entrepreneurs Tuesdays @12PM (PST), LIVE on LinkedIn, YouTube, & Facebook Our mission is to enable values-driven startups to win-win the strongest hires by sharing insights from top-performing entrepreneurs, game-changers, & industry thought leaders. www.hirepowerradio.com www.rickgirard.com
Episodes
Thursday Sep 08, 2022
Thursday Sep 08, 2022
The reason why people think that hiring is "really hard" is because interviews are conducted without a defined set of criteria to which a person is being evaluated.  This especially rings true when interviewing outside your personal competency level. Most often when hiring a CMO or CRO.
In order for any interview to be effective, there has to be two components by which a person is being judged. Skills & Value Alignment. 
Focusing only on skills may solve your immediate problem but often creates more problems because the person disrupts your culture. 
What I have learned is that culture is driven by value alignment. So, understanding how a person aligns with your values in an interview is the most important criteria that needs to be evaluated to make a strong hire.
Guest Bio:
Matt Blumberg is a technology entrepreneur, business builder, and CEO of Bolster, an on-demand executive talent marketplace that helps accelerate companies' growth by connecting them with experienced, highly vetted executives. 
Matt has been recognized as one of New York's 100 most influential technology leaders by Business Insider, by Crain's as one of New York's Top Entrepreneurs, and by Ernst & Young as an Entrepreneur of the Year finalist. 
Before Bolster, Matt built businesses and worked in marketing, consulting, and venture capital. He is the author of Startup CEO, Startup CXO, and Startup Boards.
TODAY WE DISCUSS:
The challenge of hiring a CMO

The playbook to hire a CMO
HIRING STORY:
Over indexing on culture swinging to resume

Balance of cultural fit and competencies

Like dating…each one corrects the mistakes of the previous one

Over-indexing on culture - "nice" - leave replacement

Over-indexing on resume - "Vishnu" and "It/Out"
PROBLEM: Challenge?
CMO at RP and Defense Against the Dark Arts

I had been a CMO

CMO is a hard role - expectations are all over the place, function has splintered (chart), marketing can become a dumping ground - french fry problem

Marketing to marketers

The myth of the playbook and Roth asking for headcount and budget - "plan to overspend and overdeliver"
Why is this important to the company?
Rick's Nuggets
Positioning Problem

Desire your opportunity

A, B or C player
SOLUTION: How do we solve the problem? 
The final playbook that worked for me for hiring CMOs - three "aha" moments
Marketing can quickly be consumed by the "French Fry problem"

Define the French Fry problem and marketing as a litany of tactics

Moving marketing from the tail to the nose - what's the real role of marketing? Brand and Audience, so start with strategy and ROI

Making limited room for French Fries

Producing the ability for others in the organization to make their own French Fries

The realization that no one person can be the master of all channels

Build list of competencies (channels, etc.)

Build job roadmap to see how it evolves over time

Make sure all critical competencies are covered somehow

Focus on making sure the overall machine is optimized

The critical nature of building a Leadership pipeline to grow CMOs

Focus on making sure the leader is an intellectually curious orchestator

Leadership development at the next level down

Cross-training of all the channels and elements of the CMO role - orchestration, hiring/leading, ROI focus, customer service corner around French Fries

The machine becomes something where the CMO is at the pyramid on top, not holding up an inverted pyramid and hoping it doesn't topple
Rick's Nuggets
Values driven interview

Do we operate from the same place?

Are you REALLY proactive, rebellious, curious?

Skills driven interview (working session)

Transferable skills

Growth

Details 
Key Takeaways that the Audience can plug into their business today! (Value):
Find that right balance between culture and values fit and technical competency

Help your people architect their own career as if it is a jungle gym and not a ladder

(a great way to retain people)
Guest Links:
LinkedIn: https://www.linkedin.com/in/blumbergmatt/

Company:

https://bolster.com/

Resources:

https://startupceo.com/

&  Bolster.com

LinkedIn: https://www.linkedin.com/company/bolstertalent/

Facebook: /BolsterTalent

Twitter: https://twitter.com/bolstertalent

Twitter: https://twitter.com/mattblumberg
Host Links:
Show Sponsor: