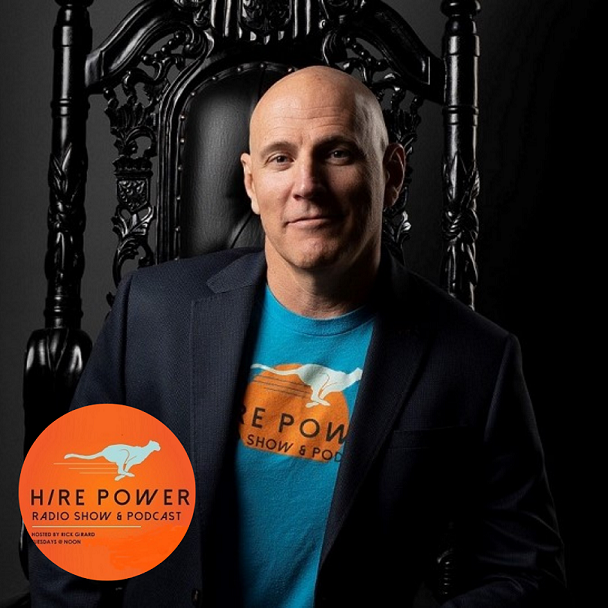 #1 Hiring Podcast Designed Specifically For Startup Founders & Entrepreneurs Tuesdays @12PM (PST), LIVE on LinkedIn, YouTube, & Facebook Our mission is to enable values-driven startups to win-win the strongest hires by sharing insights from top-performing entrepreneurs, game-changers, & industry thought leaders. www.hirepowerradio.com www.rickgirard.com
Episodes
Friday Jun 10, 2022
Friday Jun 10, 2022
One big thing that we have learned over the past year is that employers no longer have control over the people they hire. The balance of power has shifted with the majority of people willing to walk away from an opportunity that does not align with their personal beliefs or values. 
Many companies are left scratching their heads as to why. So, the thinking has evolved into "it must be the money" so let's increase compensation & benefits. Hoping this will solve the problem. But it hasn't.
The interviewees today are the one's making the selection, not the company. 
The interviewees are the ones evaluating the company for more than just the paycheck. 
And the interviewees are the people who have a lot of options, not the companies.
So to get people to choose your company to join you simply need to level the playing field by understanding "what's in it for them".
Guest Bio:
Lee Rubin is the Founder and CEO of Confetti. A platform that helps companies build stronger culture by providing shared experiences for a distributed workplace.  Their holistic tool empowers HR and other team leads to quickly discover, plan and book from a catalog of exclusive experiences that optimize corporate culture and employee's professional growth. 
Lee is a visionary culture leader with a decade of experience in B2B sales. She's one of the world's experts on remote event planning and has built her company from 0 to 60 employees in just 3 years!
TODAY WE DISCUSS:
What the field really looks like today

How to stand out as an employer of choice through your interview process
Challenge today?
Differentiate the company

Higher chance of closing the person

Taste of the culture

Demonstrating a healthier dynamic

Not posting salary to optimized offer

Win-win scenario

Interests here aren't aligned obviously (one wants the higher and one wants the lower). I once heard the phrase "Good deals can't happen with bad people" and have kept hold of it. Brings me back to leveling the playing field… 
Why is this important to the company?
You don't want your people to feel under-valued monetarily 

People feel respected because they get what they ask for

Not over spending on talent

We close 80-90% of the people we really want join 
Rick's Nuggets
Optimize for remote vs. onsite
Authenticity - As you know from your book "healing career wounds" people are literally traumatized from their job and don't want to make the mistake again of joining a company they don't like. So how do you get to know them authentically, make them feel comfortable and close the deal better? 
How do we solve the problem? 
Getting people to feel comfortable

Body language, casual talk: friendly 

Excited to speak to you! casual conversation

Vibe fit

Learn about our culture

Showing respect

2 Minute Intro

About you, improvised 

Listen for concise, 

Pay attention to the time in the presentation

Coherent

Able to express their resume in the form of a story?

What did they learn? brother/sister, primarily professional




Assignment

Prepared with job posting

Each job has a different assignment

Core elements of the job

Ie: Customer success- create a customer response email

Negotiation

Negotiate respectfully

How much are you "hoping" to make

Tap into a person's dreams = context
Rick's Nuggets
 Values driven experience

Get them to talk first

After emotional engagement
Key Takeaways that the Audience can plug into their business today! (Value):
Optimize for people you want to go through the shit with

Optimize for those who share your same values

Academia is overrated

Loyalty is the #1 currency
Confetti Offer: *This special promo expires on July 9th
Redeem a $150 discount on your first event by sending an email (see below) to plan@withconfetti.com with the Subject line: HIRE POWER Confetti Discount
----------
Hello!
I'm a listener of HIRE POWER and am looking to redeem the exclusive HP150 discount to run my first team building experience with Confetti!
I've signed up to Confetti with the following email: USEREMAIL.
Could you please let me know once the discount has been applied?
Thank you!
----------
Guest Links:
Host Links:
Show Sponsor: