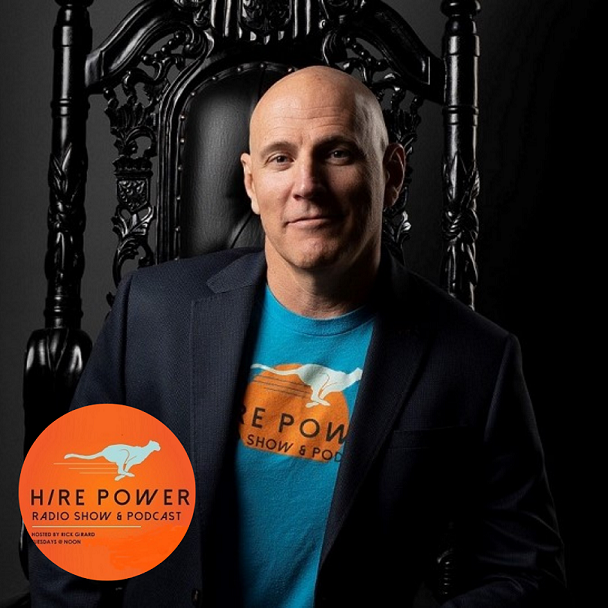 #1 Hiring Podcast Designed Specifically For Startup Founders & Entrepreneurs Tuesdays @12PM (PST), LIVE on LinkedIn, YouTube, & Facebook Our mission is to enable values-driven startups to win-win the strongest hires by sharing insights from top-performing entrepreneurs, game-changers, & industry thought leaders. www.hirepowerradio.com www.rickgirard.com
Episodes
Thursday Nov 24, 2022
Thursday Nov 24, 2022
What are the common characteristics of every successful person at your company?
Think of those characteristics and write them down as standard operating procedures. This is critically important because when we operate under the same frequency, pace, and purpose… growth happens. But this can change instantly when a new person is added to the team. 
Too often we hastily add a person to the mix without understanding how they really operate on a daily basis. Assuming that they will be the answer to all of our current challenges because of the skills they are bringing to the table. 
There is nothing more critical to hiring success than aligning people first, and skills second. This means investing the time to dig deeper into your interview process. Understanding not just what a person accomplished but the details of exactly how it was done and why it was approached in that manner.
Guest Bio: 
Allan Jones is at the helm of Bambee, a new type of business built on the innovative premise that every small business should have a dedicated HR Manager. This concept was derived from Jones' previous experiences working with—and growing up around—small business owners.
In 2021, Goldman Sachs celebrated Allan Jones as one of the 100 Most Intriguing Entrepreneurs at its Builders + Innovators Summit. For three years running, Forbes has named Bambee a top startup employer in the U.S., and in 2022 it announced Bambee as a Top 5 Company in Los Angeles.
TODAY WE DISCUSS
Understanding your company's unique characteristics

How to implement critical characteristics into your interviewing & hiring process
Challenge?
Getting people who fit a special suite of characteristics

Infinite characteristics that are valuable

How do you narrow it down to 8?

Being honest about who you are

Characteristics of leadership values

Mastery of communication

Broad outcome objectivity: don't care where the right answer comes from

Urgency & greatness in tandem

Separate leadership & team values

High potency friction

Hired leader that doesn't fit,

Courage to make a change

Scoring system & scorecard
Why is this important to the company?
Looking at blemishes before celebrating wins

Continuous loop of how can we be better

Continuous improvement is just part o the game

Not afraid to say "not every person is right for the company"

Companies are Olympic sports teams, not govt service agencies
Rick's Nuggets:
How people operate within your company

Core values drive the operating characteristics

Adding a player to the game, not an ass to a seat
How do we solve the problem? 
Identify that the problem exists

Building leadership personas

Hired multiple executives and 50% did not work out

Right after fundraising

Practices did not scale

CEO can not make hiring decisions for the company

 He is not the only sign-off anymore. 

Interview Structure

Hiring committees 

Only leaders sit on the committee

Master of communication

Cliff notes version of who you are personally & professionally

Go to the resume

Listening skills along with speaking

Eliminated Leadership savior complex

Problems would be solved by our next hire

Company already had great people

Never let a problem go unowned

Realization that already had an A+ executive team

From savior to draft pick

90% success rate
Rick's Nuggets:
Values drive characteristics

Interviewing process

Structured & designed to gather evidence to support the correct decision

Assign interview questions for people alignment

Follow up with what & how questions 
Key Takeaways that the Audience can plug into their business today! (Value):
Offsite with sr leadership & build leadership personas'

As a founder ask yourself " your unique role in the hiring failure"

Set up screening committees

Make sure you are aligned
Guest Links:
Host Links: 
Show Sponsor: