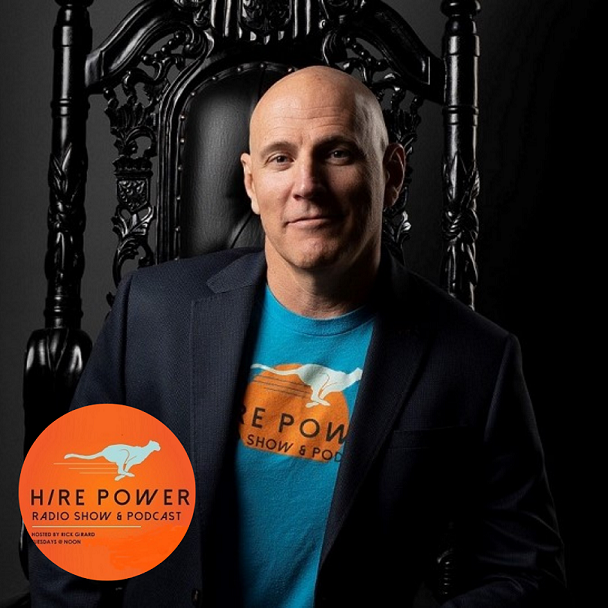 #1 Hiring Podcast Designed Specifically For Startup Founders & Entrepreneurs Tuesdays @12PM (PST), LIVE on LinkedIn, YouTube, & Facebook Our mission is to enable values-driven startups to win-win the strongest hires by sharing insights from top-performing entrepreneurs, game-changers, & industry thought leaders. www.hirepowerradio.com www.rickgirard.com
Episodes
Tuesday Dec 28, 2021
Tuesday Dec 28, 2021
Most of us have a tendency to fast track anyone who comes through an internal referral. The rationalization is that we automatically trust the referral source so the person will be a great hire. Add time pressure to fill the role and we are ready to extend an offer before the interview takes place.
Yes there is an increased likelihood that the person will work out. But there is danger too.
Because a person is a referral, is the exact reason why they need to be impressed with your thoroughness in your interview process. This does not dissuade the A-players from joining you. It gives them the impression of excellence expected from everyone within the organization. 
Our guest today: Todd Ausherman, CEO of Notaroo
Todd is an attorney and entrepreneur with over a decade of experience in building high growth companies in the financial services space.  Having successfully exited multiple companies, while personally hiring hundreds of employees along the way, he is currently building Notaroo, a lending software platform for the mortgage industry. 
Todd is here to share his experience with hiring internal referrals.
Today we discuss:
Why it is critical to thoroughly vet internal referrals

How to ensure the the referral fits
Challenge today?
The internal hire from the company that acquired the company

Build from 19-250 people in 3 years

Went into default and took two people

Got a hero and a zero

The zero - had his own way

Created a lot of barriers

Nothing got done

First hire power bred discontent among his tribe

Led to a mutiny

Unreasonable belief in his ability

Project fell flat
Why is this important to the company?
The team of malcontents poisoned the culture

Ultimately the CEO unloaded a bad employee on him
Rick's Nuggets
Must do diligence for everyone, especially referrals

Why is this person being referred to me?

Do they align with our values?
How do we solve the problem? 
Culture first

Create a lot of events

Break down the communication barriers

Humanize himself as a leader

Open a channel for people to be heard, raise your hand

Spread out the balance of power

Minimize the possibility of a mutiny
Team leads responsible for smaller teams

Decentralized hiring control to the team leads

Process that multiple people decided on the hire
Recruiting - intro calls
Interview conducted in groups of 2- accountability partner
Leader final interview

Penguin question
Hired a person who didn't like penguins(company mascot), it didn't work out.
Knockout question: stick to it

Fire Fast

Eliminate the cancer as soon as you learn of it
Rick's Nuggets
Values are what form your culture

Hiring process!

Knockout question!
Key Takeaways that the Audience can plug into their business today!  - Value:
Sticking to your knockout question

Mindful of your key lieutenants and what their motivations are 

Confront the uncomfortable truth of seeing a person who is a performer but the agenda is self driven. Don't hide behind a person's performance- cowardly
Host Links: 
LinkedIn: https://www.linkedin.com/in/rick-girard-07722/
Company: https://www.stridesearch.com/
Podcast: https://www.hirepowerradio.com
Authored:  "Healing Career Wounds"  https://amzn.to/3tGbtre
HireOS inquiry: rick@stridesearch.com
Guest Links:
LinkedIn:https://www.linkedin.com/in/toddausherman/
Company: :https://www.getnotaroo.com/
Show Sponsor:
Criteria Corp: https://www.criteriacorp.com/