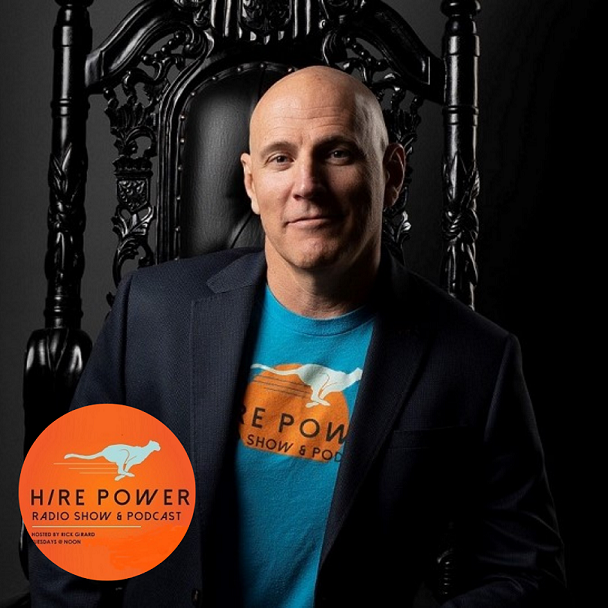 #1 Hiring Podcast Designed Specifically For Startup Founders & Entrepreneurs Tuesdays @12PM (PST), LIVE on LinkedIn, YouTube, & Facebook Our mission is to enable values-driven startups to win-win the strongest hires by sharing insights from top-performing entrepreneurs, game-changers, & industry thought leaders. www.hirepowerradio.com www.rickgirard.com
Episodes
Thursday Nov 11, 2021
Thursday Nov 11, 2021
Asking for help as an entrepreneur is often a difficult thing to do. But it is the one thing you MUST do if you want to succeed. 
I learned this from my friend, Lori Torres, the founder of Parcel Pending. Lori was able to grow the company from $0 to a $100M exit in six years … and the reason it was such a success is because she asked for help… a lot!
Asking for help gets people engaged. It allows them to gain insight into the business and is critical in getting over the business humps. It also sets the stage to hire outstanding people.
And guess what, people will do it because they want to help. 
Our guest today: Vincent Kimura, Co-Founder of Smart Yields. 
A Hawaii-based and globally recognized agriculture technology company that is revolutionizing the way small- and medium-scale farms operate.
Vincent was named the 2016 Clean Tech/Ag Entrepreneur by the Hawaii Venture Capital Association and a 2016 finalist in the Pacific Business News Business Leadership Awards. 
He was also named to the Pacific Business News 2016 40 Under 40 cohort, which recognizes outstanding young business professionals in Hawaii. He lives in Honolulu with his wife Lisa and their three children.
Vincent faces the daily challenges of start-up life and is here to share his learnings. 
Today we discuss:
Why it is important to ask for help 
How to get the help you need when hiring
Challenge today?
Asking for help to support your hiring process as a startup founder? 
Understanding how a person is positioned
How willing to take on risk
Introductions- changing the dynamics to leverage more mentorship
Passion for the mission of the company
Concerned about the perception from the outside
We end up hiring to fill a need vs. what the business needs
Why is this important to the company?
Wasn't able to grow in a natural way
Fully driven by the CEO
Passion might be there but 
Less emphasis on trying people out vs. All in
The team is the make or break
Rick's Nuggets
Big difference between people who want to do the work and those who do the work for the paycheck.
Eliminate the Assumptions
Hey Subscribers!  Keep an eye out for our newsletter as we are giving away 10 signed copies of Healing Career Wounds! Simply complete the linked survey and your name will be entered in the drawing.  You'll also be able to download a free chapter of the book just for participating!
How do we solve the problem? 
Define what the business needs

Core values
The business strategy & model
What needs to be done & when

Understand the person's desire

Go Slow
Identify builders… and Improvers

Discovery call
Builders will tell you they need to build (bored with the work)

Eliminate the Assumptions
Hire what the business needs

Your ego, wants and assumptions
Start with contractors
Barter

Letting go

Stop doing everything yourself!
Rick's Nuggets
Help someone else's business while they help you build yours
Expectations alignment document- will solidify a fit for your leadership team
Business needs - support to grow
Key Takeaways that the Audience can plug into their business today!  - Value:
 Don't wing it….
 Get help and plan it out…. Do your homework 
Guest Links:
LinkedIn: https://www.linkedin.com/in/vincentkimura/
Company: https://smartyields.com/
LinkedIn: https://www.linkedin.com/company/smartyields/
Facebook: https://www.facebook.com/smartyields
Twitter: https://twitter.com/smartyields
Instagram: https://www.instagram.com/smartyields/
This show is proudly sponsored by Criteria Corp: https://www.criteriacorp.com/
Rick's book - Healing Career Wounds (Amazon)