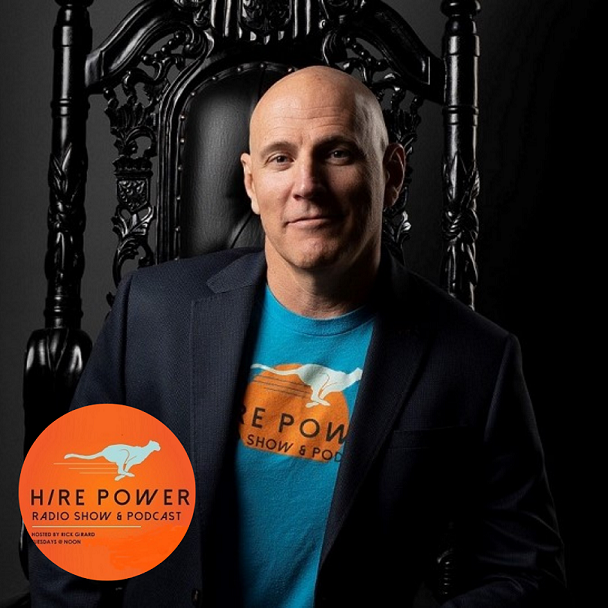 #1 Hiring Podcast Designed Specifically For Startup Founders & Entrepreneurs Tuesdays @12PM (PST), LIVE on LinkedIn, YouTube, & Facebook Our mission is to enable values-driven startups to win-win the strongest hires by sharing insights from top-performing entrepreneurs, game-changers, & industry thought leaders. www.hirepowerradio.com www.rickgirard.com
Episodes
Thursday Sep 29, 2022
Thursday Sep 29, 2022
Do you ever wonder why only a small percentage of people respond to your recruiting emails? 
The answer is that there is nothing in it for them. 
Especially if the person you are trying to recruit is already working. 
Let's be honest, selling people on what we NEED only attracts people who are actively looking, and 99% of messages all sound the same! 
Here's why we are great…
What we need…
What we offer…
Skills you must have… 
Ending with the hurdles you have to leap, to talk to us
To gain higher response rates, and attract the people you need to respond, we must first change our positioning. Starting with answering the question, "what's in it for them" above and beyond just a paycheck.
Guest Bio:
Dustin Riechmann, owner of Simple Success Coaching, is a strategic marketing coach who helps mission-driven entrepreneurs rapidly increase profits and massively grow their network using a Partnership Marketing System.
TODAY WE DISCUSS:
Recruiting messaging

How to write a solid cold email
Challenge?
Low response rates to outreach

Viewed as a spammer

Ineffective or confusing communication
Why is this important to the company?
Effects reputation

Need communication to grow

Every missed communication opportunity costs money

Lost opportunity
Rick's Nuggets
How do we solve the problem? 
Perfect Pitch Email

This template has proven to be highly effective at getting positive replies from potential partners in a single cold-pitch email.  It consists of 5 key components:

Direct email address

Hunter.io, Chatterworks, Swordfish

Social media profiles, Google search

Bypass gatekeepers

Avoid filters

Curious subject line

Something Personal (reference an episode number for a podcast)

Job is to get someone to open the email

From field matters

Sample: dog poop

Relational Anchors (beginning) 

Not a random weirdo from the internet

Find the point(s) you have in common

Demonstrate you're familiar with their work/interests/passions

Flatter them!

Clear Win for the Person You're Pitching (middle) 

Demonstrate how you will add value to them

Compelling bullet point summary

Eyes may go here first so make it super interesting

Clear Ask (end) 

Call-to-action that's an easy yes

"Are you interested?"

Simple signature with a single link to your site
Rick's Nuggets
Craft messaging toward the people that won't normally respond

Target the top 10%

Subject Line

Subject:

Real quick or How's my Telepathy?

Opener

Thought-provoking, laugh or cry

I know you have been eagerly anticipating my email but just received your telepathic message so I apologize for taking so long to get back to you ;-). 

Acknowledge the Pain  (Pain)

Reason to not ignore

"I understand you are pretty good at your job but your talents in

XXXX (personalize)

may be a bit

underappreciated

(or underutilized, under-challenged, or over-managed)

 in your current role. Obviously, I am not sure about your situation but I wanted to find out if you are open to

hearing

about a situation that could provide more impact on you both personally & professionally."

Call to Action (Benefit loaded)

I'm here to listen…. 

"The signals I received from you were strong and I get your urgency. We should talk as I may be able to help alleviate your pain!

Let me know your availability for a quick phone conversation this afternoon.

If the timing is off, please respond "Not Interested" so that I do not fill up your Inbox with additional messages. (- for LinkedIn)

I look forward to your response."
Key Takeaways that the Audience can plug into their business today! (Value):
How to craft compelling emails that get an 80% response rate when sent to "cold" prospects, recruits or partners.
Guest Links:
Company: https://simplesuccesscoaching.com/
Host Links:
Show Sponsor: