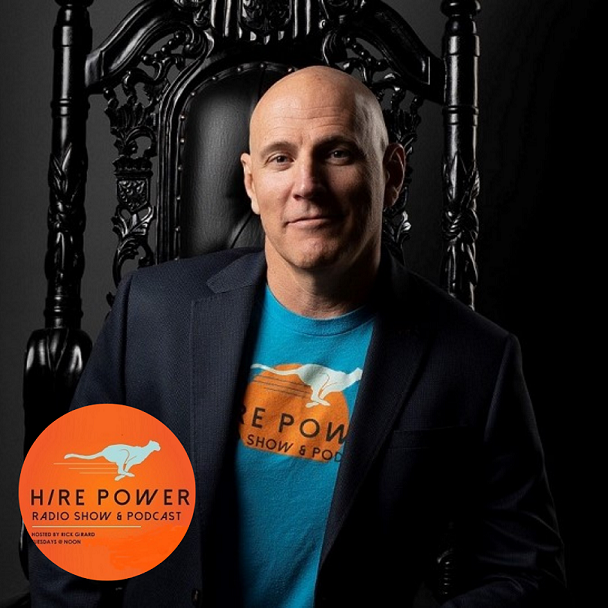 #1 Hiring Podcast Designed Specifically For Startup Founders & Entrepreneurs Tuesdays @12PM (PST), LIVE on LinkedIn, YouTube, & Facebook Our mission is to enable values-driven startups to win-win the strongest hires by sharing insights from top-performing entrepreneurs, game-changers, & industry thought leaders. www.hirepowerradio.com www.rickgirard.com
Episodes
Friday May 27, 2022
Friday May 27, 2022
A company founder approached me last week with a problem. He has had a critical role open for the past 6 months and no one has accepted his offer. 5 people had been offered the job and every single person turned it down.
When asked why, the founder said, "I did a great job selling each one of them from the beginning so It must have been the money".
Then I asked, "what was it that the person you were trying to hire really desired in their next role. To that his response was "I have no idea".
We get so busy selling that we forget to ask.
Interviewing is not about selling. Interviewing is about understanding the truth of what is important to the person on the other side of the table.
And understanding is how we avoid turned down offers!
Guest Bio:
Jeff Wolfe is an energy and cleantech industry leader and serial entrepreneur. He has spent his career creating new solutions in the built environment and clean energy. As CEO of Veloce Energy he is working to accelerate the electrification of everything by creating systems that reduce the cost, time, and complexity of powering EV charging and building electrification.
He has been President for the Americas of a global EV charger manufacturer, worked in retail energy and in a multi-national oil company, and designed over a billion dollars of hospitals, laboratories, and other infrastructure. 
 Today we discuss:
Why listening during the interview process produces results

How to let candidates lead you to the truth and ultimately the right hiring decision
HIRING STORY:
Met 4th cofounder through 3rd party 

Brought him on over zoom

Didn't meet him for 5 months
Challenges today?
Aggressive employee environment

Wages going up

Lower wages 

Can't settle on talent

Show people that they want to work for us

Communicating mission (Why)
Why is this important to the company?
Able to hire good people for reasonable compensation

Need to find people who want to solve the problems, create the solutions as much as the founders do
Rick's Nuggets
People not accepting or leaving - not the $$$

People compelled to align with values, mission & purpose
How do we solve the problem? 
Let the person tell you what they need

Why do people stay - three elements of compensation

Money & Benefits

A good work environment and good people to work for

Good and important work to do.

Provide 1 element, good people will stay for 6 months

Provide 2 elements and good people will stay for 2 years

Provide all 3 and good people will become great people and will stay a long time

Create company culture

Learn how to communicate it and

own

it

Don't worry about scaring people away

Share fact based beliefs - if people do not believe in the problem being solved, or in the solution, they will do a poor job of executing against it

Interview 

Look for value alignment early. Part of the filtering process

What does HR mean

Honest relationships

Get to a yes/no faster

Better yeses and nos

Create understanding of the what the fit is

Leadership communication

Constant reinforcement

Whole picture

Honest offers

No low balling

Get people to join rather than be hired

Not over-interviewing people

Take notes 

Different people focus on different aspects, based on their expertise, no one person can really do a complete interview

Cumulative thumbs up/down

It is partially a gut decision.

Don't

ignore the facts, but the gut needs to align.
Rick's Nuggets
Values

North star for strong team

Alignment fuels passion & engagement

Interview

Interviewing for value alignment
Key Takeaways that the Audience can plug into their business today! (Value):
Learn to embody and externally express the company culture and mission. Do not be afraid of them

Don't worry about being liked by every candidate. A strong culture and mission will attract the right people, especially in these times

Define HR as "honest relationships"
Guest Links
LinkedIn: https://www.linkedin.com/in/jeffwolfeenergy/

Company: https://www.veloceenergy.com/

LinkedIn: https://www.linkedin.com/company/veloceenergy/

Twitter: https://twitter.com/JeffWolfeSolar
Host Links:
LinkedIn: https://www.linkedin.com/in/rick-girard-07722/

Company: https://www.stridesearch.com/

Podcast: https://www.hirepowerradio.com

YouTube: https://www.youtube.com/channel/UCeEJm9RoCfu8y7AJpaxkxqQ

Authored:  "Healing Career Wounds"  https://amzn.to/3tGbtre

HireOS inquiry: rick@stridesearch.com
Show Sponsor: