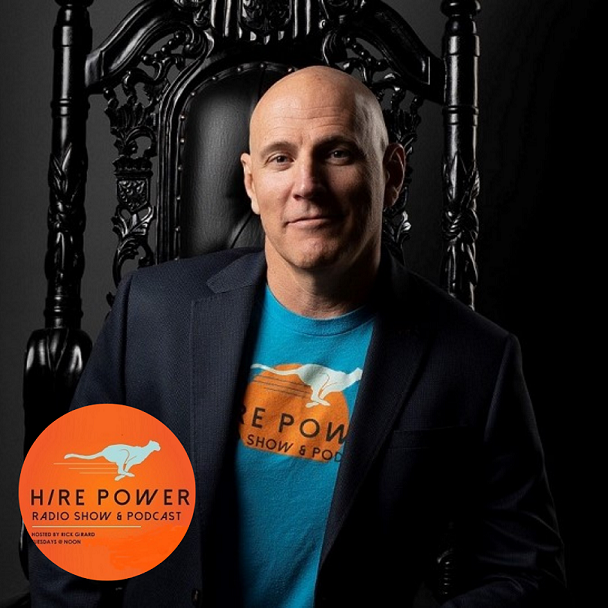 #1 Hiring Podcast Designed Specifically For Startup Founders & Entrepreneurs Tuesdays @12PM (PST), LIVE on LinkedIn, YouTube, & Facebook Our mission is to enable values-driven startups to win-win the strongest hires by sharing insights from top-performing entrepreneurs, game-changers, & industry thought leaders. www.hirepowerradio.com www.rickgirard.com
Episodes
Thursday Sep 30, 2021
Thursday Sep 30, 2021
Time and People are the most precious asset your company has on the road to success or failure. 
As leaders, It is our responsibility to protect the time of our team to ensure that projects are delivered on time. It is also our responsibility to put processes in place that ensure that the strongest people are in the right seat!
Shouldn't each step of the interview process have a purpose and save time for everyone involved?  
Yet Interviewing is the single point of failure in almost every company. 
Too long. 
Too short. 
No clear direction.
Or riddled with boobytraps that repel strong people from even engaging with your company! 
Our guest today:  Andrew Bartlow, Founder & Managing Partner of Series B Consulting.
Which helps businesses to articulate their people strategy and accelerate their growth while navigating rapid change. He also founded the People Leader Accelerator, which is the foremost development program for HR leaders at startups.
Andrew Bartlow has 25 years of Human Resources and Talent Management experience at organizations across a wide spectrum of sizes, maturity stages, and industries. He is the co-author of "Scaling for Success: People Priorities for High Growth Organizations," 
Andrew has worked with clients like MasterClass and many others to help them overcome obstacles in a hyper-growth phase. 
Today we discuss:
Why your timing kills hires
How to Time out your process in the most effective manner
Challenge today?
Filling roles with good people with less of an internal organization tax
Too many interviews, too much time - I'm out
Over emphasis on consensus, 10-12 people over multiple rounds
Giant time drag on a company  
People fall out 
Offer to close rate 60% is not good!
Why is this important to the company?
Time - interview time takes away from productivity
Rapid growth is usually essential. Time burns cash runway, employee time and goodwill, and competitors keep coming. 
Efficiency matters - particularly at the early growth stages
Don't let perfect be the enemy of good. Should be able to make rapid hire / no-hire decisions, and fair/reasonable separation decisions without months of agony. 
"Hire slow and fire fast?" I'd suggest looking for a goldilocks zone on both. Take the time necessary, but not one minute more than what is net value-adding to do both. 
Rick's Nuggets
All that is needed is:

Discovery Call

Value Alignment Interviews 

Working Session (skills)

10 business days max
How do we solve the problem? 
Start by clearly defining the roles that you want to fill

Source candidates in a scalable way
Expand the pool
Employer branding
@ Series A should get beyond friends & family network

Hire a dedicated recruiter

Need a screen / filter before the manager sees the candidate
Passive candidate magnet
Check for compensation expectations & role interest; initial assessment of required skills, knowledge, and experiences
Goal is that ZERO candidates make it to the hiring manager who have out-of-bounds pay or role expectations, and all of those candidates moving forward have experiences that reasonably match the role  

Manager vetting before meeting the team

One and done interview process ~30 minutes 1on1 via video
Confirm that the candidate is interested in the role and the comp budgeted - preclose the candidate
Ask for references here!
A candidate shouldn't come meet with a team until / unless the hiring manager is a strong advocate to hire them. Don't waste the broader team's time.
Work Product Sample (optional - often good for technical roles, but rarely for G&A)

Give a real problem - don't spend a lot of time coming up with hypotheticals, too many variations which will change
Faster / easier / more accurate to work on a real problem. Just get an NDA.
Related alternatives - Can review Github rather than request a project. Can conduct a live shared-screen working session. Can ask for examples of prior work that demonstrates a good fit for the role.
LOTS of candidates drop out at the project stage. Don't let this become a barrier!

Team Screen

One and done over video, with multiple people involved
Cultural (watermelon @ Gusto) interviews have a risk of being counterproductive. To be effective it should be structured, interviews have good training, and the traits assessed should be really clear AND ALIGNED with the future needs of the org. Danger of holding onto the past - what got you here, won't get you there.

 Decision

After the team screen, there should be a hire / no-hire decision. Lots of organizations get hung up comparing candidates, not sure what they are looking for. You need to fill jobs with good people and KEEP MOVING. A hiring manager / hiring team which isn't sure what they are looking for is the single largest waste of time and energy in the company-building process.
Can have a calibration meeting. Maybe the recruiter supports it, but really, the hiring manager should own the decision and have the most energy around moving forward.

Offer & Candidate Closing
Rick's Nuggets
Reverse engineer the time to hire and set timelines for each stage

Set process before you define roles
Train your people on "how you hire"
Gain commitment from interviewers for excellence
Key Takeaways -Value:
Streamline your process. Fill jobs with less time from the team. May or may not fill the role in fewer days, but can reduce total hours committed by the group from 100+ to closer to 10. Yes, this requires a bit more ownership and potentially a little more time (per candidate) from the HM, but should dramatically reduce the overall time by the team.
Guest Links:
LinkedIn: https://www.linkedin.com/in/bartlow/
Company: https://www.seriesbconsulting.com/
Speak On Podcasts: https://speakonpodcasts.com/andrew-bartlow/
People Leader Accelerator: https://www.peopleleaderaccelerator.com/
This show is proudly sponsored by Criteria Corp: https://www.criteriacorp.com/