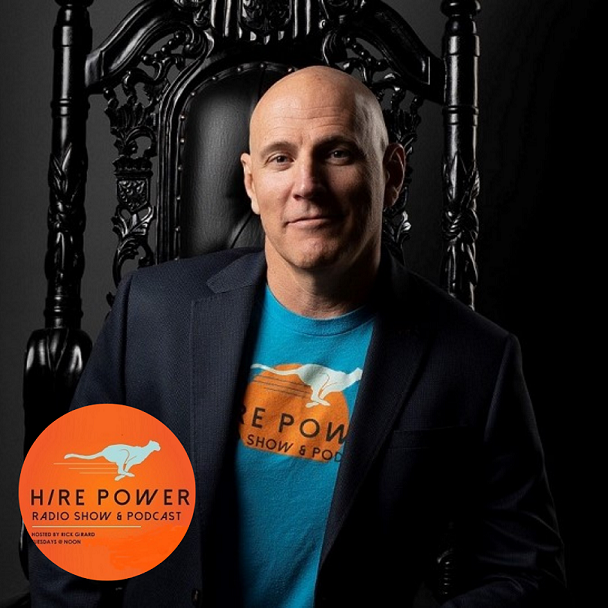 #1 Hiring Podcast Designed Specifically For Startup Founders & Entrepreneurs Tuesdays @12PM (PST), LIVE on LinkedIn, YouTube, & Facebook Our mission is to enable values-driven startups to win-win the strongest hires by sharing insights from top-performing entrepreneurs, game-changers, & industry thought leaders. www.hirepowerradio.com www.rickgirard.com
Episodes
Thursday Aug 11, 2022
Thursday Aug 11, 2022
Most good hires are a result of luck rather than skill. In fact, I would argue that very few hires are by design. 
Throughout my career, I have never met a person who views interviewing and the hiring process as anything more than a chore that they loathe. In fact, the most common reaction to the subject usually results in a huge "uuuggghhhhh" or "I hate hiring". 
We dread the act of interviewing and hiring because it is unstructured and inconsistent and it produces mediocre results. 
Here's the good news: There is an easy fix! When we train our people how to interview it brings purpose to each and every interview question. Giving your people a basis for decision-making that results in extraordinary hiring results.
Guest Bio:
Karima Gulick is the CEO & principal patent attorney of Innovent Law.
She dedicated her career to counseling businesses within the tech and creative communities, combining her passion for engineering and the law. Karima is a polyglot and guides her clients through legal matters in French, English, Arabic, Spanish, and some Italian as well!  She is also the former co-host of the Gen Y Lawyer podcast, a show where she interviewed innovative lawyers shaking things up in the legal industry.
Karima is building a next-generation law firm and is here to share her experience.
Today We Discuss:
The overwhelming hurdles of hiring.

How to interview to bring purpose to your interview questions
Challenge today?
Overwhelmed & stuck in the business

The idea of hiring was overwhelming

So overwhelmed in my business, that adding one more task to my list, which is hiring to free me up seemed daunting 

Having had a bad experience with hiring in the past, it seemed as an even more daunting task

No clear strategy on how to go about

 interviewing 

selecting candidates to interview

Finding candidates.

I could write what I thought was an amazing post but it might not be read or looked at by the right person

Jaded on values because of corporate America

Values area words splattered on the wall

No one ever explained what the values stood for

Never defined what it looked like.

Defining what you stand for seems hokie
Why is this important to the company?
A burned-out and overwhelmed leader is the worst thing that can happen to a company

Even if you have the best team, without the right energizing and enthusiastic leadership,  

It's just a matter of time before you stop caring, and the rest of your team starts seeing that

We all have values, 

You have them as an employer

Certain things that are intangible

Employees have a reason to care. Buy in and bring more energy to the process

Employees have taken more ownership

When there is a change in the workforce, the chatter makes it more difficult find a fit. Buying into the negative ideas
Rick's Nuggets
Values First Strategy

Makes evaluating people easier
How do we solve the problem? 
Realizing that I was stuck 

Knowing that I needed someone to step in and save me from myself

Knowing myself, I knew I needed to bring on someone to help

I had posted a couple of job posts but I was too exhausted to even call people

Then I realized I was making the same mistake as I've made before

I'm in pain doing all the work, so I pick someone who can do the work

But there is so much more -

That's where Rick,  you came in and opened my eyes on the hiring process

It's more than just a post and looking for someone who can do the work

Values discussion - being jaded from the corporate world where values were meaningless

A fresh new look at values

Example: Caring, Competence, Trust

Might not mean much to others, can come off as just buzzwords, but with this process, these values came to life. 

Holding conversations with candidates looking to learn more about them and their pain points

Conducting interviews based on your values

Conducting assessments and work sessions to see how you'd work with these people 

Reaffirming that I already have great people

Believing that you deserve being able to grow the business

Allowing the entity to grow

Sitting down with intention

Mindful & intentional on what you want/ the business needs

Clarity on what you are hiring for & why?

Being Systematic

Bring life into the process - involve others

Flexible on terms/needs

Having a flow

Discovery calls

Having a process

Behavioral questions to understand if people align with what the company really stands for

Informed process

The more thorough you are, the better the chances of bringing on the right people.

Evolve 

Coming up with my own set of questions based on behavior I see around me

Tell me about the first thing you do when you come home from a trip..
Rick's Nuggets
Discovery call

Values

Not aspirational 

Team input

Working session
Key Takeaways that the Audience can plug into their business today! (Value):
You don't know what you don't know. Bring on help to allow the business to grow

If you're serious about growing your business, you have to go through this exercise 

You  can have the best gut feeling in the world, but having a systemized approach and one you can delegate to your team will help you scale.

Invest the time to get clarity on what you are looking for

Be open to learning new things, including skills outside of your comfort zone.
Guest Links:
Host Links:
Show Sponsor: